Tue 10th Sep 2019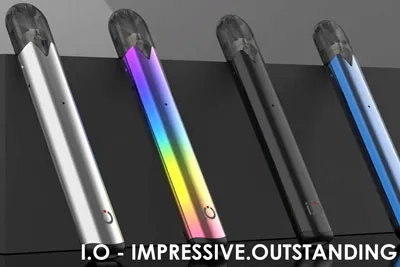 Is this the best device…ever?
*TL; DR? Check out our easy-to-digest YouTube review HERE*
Well, that depends on your position on the vaping spectrum. If you're mainly interested in massive clouds, coil building and swapping the spring in your mechanical to get a better contact between button and battery, the I.O probably isn't too high on your watchlist.
However, if you're a new starter/nicotine salt user/stealth vaper/looking for a device that won't stretch your pockets out of shape, then the I.O is everything you've ever needed! I've lived with one for a week and I can't get enough.
Before the hyperbole gets out of hand, I'm going to temper my gushing slightly by mentioning that it does only have a 310mAh battery, so if you're someone who vapes a lot, you may want to keep a spare I.O in your bag. It's not such an issue for me, as someone who uses a 20mg nicotine salt (check our favourite nicotine salt range HERE), but realistically, the I.O isn't going to last from dawn til dusk. This is a trade-off for the size of the I.O – if you want a tiny device, it's going to have tiny battery capacity – take it up with Alessandro Volta if you're not a fan!
One final criticism before we get back to the overwhelming praise, I will say that the fill port on the replaceable pods is a touch too small. Granted, Innokin do provide an adapter nozzle to fit the top of your juice bottle, but really, all they need to do is make the hole a few millimetres larger and we'll be laughing!
Battery (and fill port) size aside, I'm struggling to find anything else that I don't absolutely love about the I.O. It's tiny. Like, 85mm tall, tiny. Seriously, you could stick five of these in your pocket, and they're still going to take up less space than your mobile phone – not something that most devices can claim. It feels great in the hand and looks like it belongs in your favourite high-end bag or shirt pocket – understatedly stylish.
The I.O comes in a range of colours to suit every type of vaper – I chose black to match my car, clothes and heart. My sister went with the rainbow option – she was always the more creative of the two of us.
When it comes to the replacement pods, Innokin have given us the choice between a classic kanthal/cotton option, and a ceramic variant, both of which perform excellently. You can distinguish between them as the ceramic has a green base, whilst the kanthal is black. For my money, the ceramic is the better of the two, although in all honesty there isn't a huge difference. With normal use, these pods should last around a week, and as mentioned above are refillable, unlike similar devices from other manufacturers. This means you can use your favourite juice (up to a 50% VG ratio) and you aren't limited to the six flavours that other people choose for you. The automatic draw is also excellent – we've used plenty of auto-draws over the years, and this is up there with the best of them.
All in all, this little beauty has fast become my favourite device. Looks like the Purge mech might be getting a bit dusty over the next few months...
Winston - FV