Tue 28th Jan 2020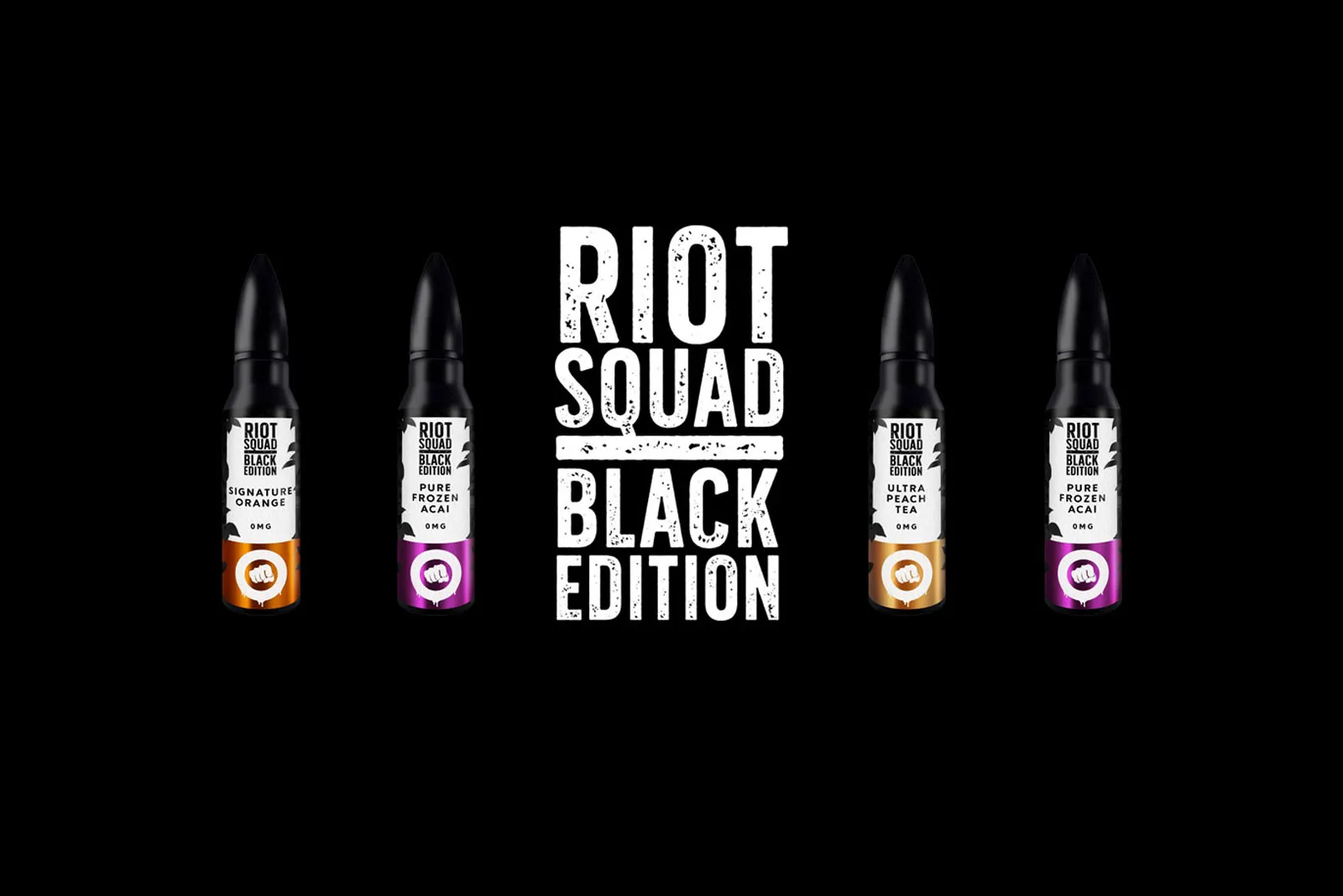 About a year ago, our friends over at Riot Squad released a 'limited edition' flavour called simply, #1 (check out our tamed, vape nerd's review HERE). This was a tangerine dream of an e-liquid which proved to be unbelievably popular, so much so that Riot Squad decided, forget the limited edition, and launched it along with three other spectacular juices. Introducing, Black Edition.
We've taken a deep dive into the four profiles below, but first, the specs –
- 70VG 30PG – Perfect for sub tanks, drippers and some MTL tanks
- 50ml Shortfill – We ship each bottle with a Pro Nic booster shot to bring your liquid up to 3mg
- Made in the UK by the fine folks at Riot Squad
Now for a closer look at the range, starting with:
That limited edition tangerine dream I mentioned above? Renamed as Signature Orange, this juice is a classic jelly sweet mashed together with the freshest citrus tones. An absolutely stunning all day vape which has fast become one of my go to flavours, especially now I don't have to worry about not being able to grab more!
Grape flavours are almost the industry yardstick when it comes to judging the quality of a liquid range - everybody makes one, and they're all much the same. Riot Squad have only added to the offering of excellent Grape based flavours with this beauty – the dash of mint on the exhale was a welcome surprise – top work!
Many moons ago, I was testing random bottles from our sampling table and I chanced on a Peach Tea flavour profile – I wasn't disappointed. I'd found my new favourite flavour, and all that remained now was to persuade my purchaser that this was a winner. Unfortunately for me, it wasn't a winner and I had to carefully ration the 10ml sample bottle, eventually cutting it in half to get those last few drops on the cotton. Thankfully for me, Riot Squad have delivered an equally impressive Peach Tea profile, so now I can vape to my heart's content!
Acai berries are one of those things that my health-conscious sister tells me I should be eating more of – full of antioxidants and fibre, they are considered to be one of the most super of the super food family. Fittingly then, Riot Squad have created one of the most super e-liquids I've come across, finishing the tangy fruit burst of Acai with a touch of koolada – a true marvel.
All in, this is an excellent addition to Riot Squad's already impressive stable of flavours - keep up the good work guys!
Winston - FV