Mon 29th Apr 2019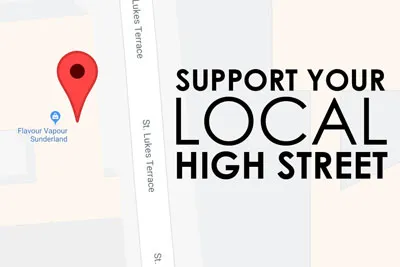 Vape Store Focus – SUNDERLAND…
If there is one thing we at Flavour Vapour are most proud of it is DEFINITELY our stores! Obviously we are biased, but since 2012 we have had one aim for all of our vape stores—to provide great environments and knowledgeable staff who will move heaven and Earth to help you get smoke-free.
If you happen to find yourself in Sunderland, then I am pleased to say that if you pop in to see Kelly and her team you are in for a real treat.
Situated at 26 St Lukes Terrace, SR4 6NQ, Flavour Vapour Sunderland is definitely the place to go whether you are looking for your very first starter kit or a seasoned vaper searching for amazing e-liquids at sensible prices. The store is just up the road from the legendary Downey's chip shop (which you'll also want to visit!), and the best news is there is plenty of parking right outside.
So I sat down with Kelly (the shop's owner) to find out exactly why her vape store is the best place to be and what makes her tick…
What's your favourite thing about running your vape store in Sunderland?

We first opened in Sunderland in 2013, which made us the first specialist e-cig store in the local area. What I like most is when we see a customer a few weeks after getting their first kit and they come back and tell us what it difference it has made to them! I love those stories, they really make my day.
We love those stories too! Has much changed in vaping since 2013?
LOADS!
Mostly the different options available, back in 2013 there were a handful of options—especially for kits—but now there are so many really good options available. It might be a cliché, but there really is something for everyone.
Has there been a game-changing kit for you guys?
No doubt the original Innokin T18. It was so good for first time vapers. Thankfully the recent upgrade to the T18 2 is even better. There probably isn't a better starter kit around that is so easy to use and we've found that our customers really take to it. If you want to stop smoking it's a great place to start.
The recent pod systems have also been very popular; I think it's all down to their size and also being so easy to use. Take the EQs kit for example, it's tiny, easy to fill, simple to use and more importantly it works really well.
Why should people choose your Flavour Vapour store?
First and foremost it's about customer service. We will always spend as much time as necessary to make sure that no one leaves with the wrong kit. It is so important! Giving up smoking is a really big deal for each and every one of our customers.
We were also over the moon recently to be awarded Trading Standards' "Trusted Seller" status too. We hear quite a lot that other vape stores often refuse to replace faulty products or help customers out with their purchase after they've left the store. We always have and always will offer a full 6-month warranty for hardware, and we won't let anyone leave dissatisfied!
You seem to have a great team here too, what makes them tick?
Working in a vape store when you are in to vaping makes it so much easier. I know that both Liam and Rebecca care just as much about our customers as I do, I couldn't ask for more than that.
What's your favourite e-liquid at the moment?
Recently we started stocking the Sugar Rush 100ml short fills, which are all amazing, but my favourite is probably the Rainbow Gummy Bears—I've got a bit of a sweet tooth!
We don't go a day at the moment without doom-and-gloom news about the UK high street, but you seem really optimistic! What's your secret?
Again it comes down to customer service. We'll always go the extra mile to make sure our customers get the best service possible. Supermarkets don't seem like the sensible place to buy a starter kit, you just can't get the level of knowledge as well as the opportunity to try-before-you-buy. It's really important that you are happy with a purchase before parting with your hard earned cash!
I couldn't agree more with Kelly on that, and during our chat I could tell that she has a genuine desire to make sure that each and every one who goes in to the store is treated like a long lost friend. Just a couple of minutes with Kelly was such a pleasure and I am sure you'll feel the same next time you swing by the store.
The Sunderland Vape Store is open 09:00 – 18:00 Monday to Saturday and you can call any time on 0191 5670049.
And if you can't get enough of Kelly, Liam and Rebecca you can keep fully updated by following the store on FaceBook for new stock updates, competitions and so much more.
Amy - FV