Wed 15th May 2019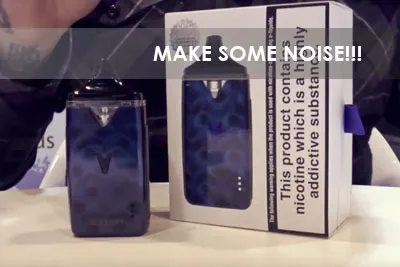 MAKE SOME NOISE…

There have been plenty of gimmicks in the vaping universe over the past five or six years – does anyone else remember the iPhone 5 Vape Case? If you don't I suggest you don't fret, that particular product was every bit as lame as it sounds.
So, when I first heard that Innokin were planning to release the first e-cigarette kit with a built-in audio alert, I thought it would almost certainly end up on the pile of hardware named "nice try".
Let's get this out of the way early – I was completely WRONG!
I will get to the Z-Biip's audio alert shortly, and admit exactly why I was so wrong—but first let's dive into the Z-Biip.
A POD WITH SOME POWER…

As soon as you pull aZ-Biip out of its perfectly designed packaging (Innokin are particularly strong with swanky packaging!) you'll realize that you are holding a serious bit of kit.
The diminutive dimensions mean that the Z-Biip slots into the "pod" category of kits—meaning that a small pod attaches to the main unit to be filled with an e-liquid of your choice. The pods tend to be easily replaceable, simple to use and will either have an in-built atomizer (the bit that heats the fluid) or changeable atomizer. It will always come down to personal preference, but I definitely prefer the pods that have a replaceable atomizer. Thankfully the Z-Biip's pods are compatible with Innokin's Zenith range of coils and can be changed really easily at any time. We are already off to a good start.
What I wasn't expecting is the weight of the Z-Biip – weighing in at 180g it is heavier than most pods, but don't let that put you off. The Z-Biip has something up its sleeve that no other small pod system can offer; namely the battery capacity.
Rating battery capacities can seem a bit meaningless, however the simple rule-of-thumb is that the higher the number the longer it will last. The Z-Biip's battery capacity comes in at 1500mAh. To put that in perspective, the Z-Biip's younger sibling, the EQs Pod Kit, has a capacity of 800mAh. In the real world that basically means the Z-Biip will last nearly twice as long from a single charge.
That can only ever be a good thing in my book.
The Swiss Army Knife of vapes…

So far we have a great sized kit with a big battery, interchangeable coils and pretty awesome styling—all of which go in the win column. You can add to the strong list of plusses for the Z-Biip the fact that it takes Innokin's brilliant Zenith coils.
The Z Series coils have been extremely popular for some time as they are compatible with Innokin's Zenith tanks and starter kits. The 0.5Ω coils are perfect for sub-ohm vaping (big clouds) and the 1.6Ω is one of the very best coils available for first-time vapers looking to get smoke-free.
Innokin have decided to spoil us buy introducing an all-new coil option – a 0.48Ω Plex 3D coil. "Plex" is the nomenclature used by Innokin for their coils that use recent mesh technology. To keep it very simple, wire mesh is used deep within the coil to heat up the e-liquid rather than plain-Jane wire. The best way to think about this is by picturing an old-fashioned filament light bulb up against a modern eco friendly bulb. Like fancy LED bulbs, mesh coils are more efficient, last longer and don't need to get as hot to produce the desired result.
The Z-Biip comes with both a new 0.48Ω Plex coil for sub-ohming and a 1.6Ω coil to cater for new vapers – perfect!
Wired for sound…

Finally, on to my mistake – I honestly thought the fact that the Z-Biip has an in-built audio alert to warn the end-user when the battery is getting low was nothing more than an unnecessary gimmick. I was wrong.
I now want all of my various e-cig set ups to do the same thing too!
It sounds (no pun intended) like a waste of time to add such a feature, but the simple truth is; it's a great feature to have.
The Z-Biip gives me three audio warnings to let you know when the battery gets down to 50%, 25% and 10%. This roughly translates into –
"You might want to think about charging me soon"
"OK, now you really do need to think about charging me"
And,
"See, I told you".

The Z-Biip is genuinely the first electronic cigarette that I haven't had die on me unexpectedly. It is always charged because it lets me know exactly when to do so with a fairly loud "BEEP".
And the audio warning system gets better – it also beeps when you have it plugged in to let you know that it is fully charged. You hear the beep, you unplug it. A great safety feature that means I will never accidentally over-charge the battery, which guarantees to improve the over all life of the Z-Biip. Brilliant.
Simple to use…

As with all Innokin kits, the Z-Biip is turned on and off with 3 quick clicks of the power button. And just like many other adjustable-power kits, the Z-Biip's wattage setting is controlled with the same button – simply power it down and then long-hold the button again to cycle through the 3 different output options (red light = 16W, green light = 14W and blue light = 11W).
The Z-Biip is filled by twisting the mouthpiece 90° to reveal a leak-proof seal – simply pop your e-liquid nozzle in the hole and squeeze. It couldn't be simpler!
If you pop the pod off you'll see the air-flow ring hidden underneath. Twisting the ring will adjust whether the Z-Biip puts out more or less vapour. I had mine wide open regardless of coil and it worked flawlessly; but obviously this is down to personal preference.
But how does it perform?

Short answer – great.
It really makes no difference what type of vaper you are, the Z-Biip covers all bases with its Zenith coil selection. Personally I found the 0.48Ω Plex coils delivered oodles of flavour from my favourite fluids – in fact my current e-liquid of choice (Big 5's Cherry & Plum Sherbet) tasted better in the Z-Biip than any other tank I poured it into. High praise indeed.
If you are undecided on whether to take the plunge with a pod-based system but have held back because the battery sizes tend to be on the low side then the Z-Biip might very well be the device you have been waiting for – it's small, easy to use, delivers great flavour and best of all the battery has plenty of power to get even a frequent user through the day on a single charge.
James - FV