Mon 8th Apr 2019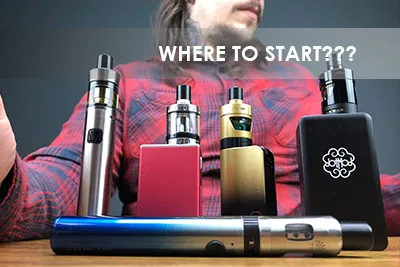 Best starter kits of the year (so far)…

Making the switch from tobacco to vaping can be a little daunting. It is a big decision to make and we have found that most of our customers want to know that what they are buying is going to work for them. There's really no one-size-fits-all approach.
Whether you are shopping online or heading in to one of our awesome stores, you'll be pleased to know that we want EVERY customer to be confident that they have the most suitable product for them. With so many options available we have broken down the top 5 most popular options to help you make your life a little bit easier.
But first, let's talk e-liquid…

Make no mistake, your kit choice is vital, but your e-liquid choice may very well be even more important!
It boils down to 2 factors – how much you currently smoke per day, and what type of flavour e-liquid you are most likely to want to use?
NICOTINE STRENGTH REALLY MATTERS!

If you currently smoke 20-30 cigarettes per day the fact of the matter is you won't get enough nicotine from a 3mg e-liquid. You want to be looking for 18mg or possibly 20mg Salt Nic e-liquids.
Everyone is different, but as a rule of thumb…
3mg e-liquid = less than 10/day
6mg e-liquid = 10-15/day
9mg e-liquid = 15-20/day
12-18mg e-liquid = 20+/day
Salt Nic e-liquid = 20+ OR if you are looking to use your e-cig less frequently
If you use rolling tobacco it is best to drop down one strength, i.e., 15-20/day = 3mg etc.
WE CAN'T STRESS THIS ENOUGH – if you have any doubts or questions ALWAYS seek professional advice from an NHS Smoking Clinic or speak with a member of staff in one of our stores! But if you start with the right strength of e-liquid you are much more likely to succeed in your quest to be smoke-free.
Accounting for taste…
There's no exact science here, BUT we find that most people get on better when starting with a tobacco flavoured e-liquid. The rationale is fairly simple – tobacco e-liquid most closely resembles the flavour from a traditional cigarette. However, there are plenty of first-time vapers who have managed to stay tobacco-free by jumping straight into the wonderful world of exotic flavours. If you love vanilla custard, we have a fluid for you. If you fancy a more fruity flavour then rest assured we have everything from blueberry to passion fruit. It surprises some people that even if you'd prefer strawberry cheesecake or bubblegum, then, you've guessed it – we have got those too!
Either way, pick a flavour that you know you'll like from day one, and while it goes without saying that we should all be doing our bit in supporting local high streets, one benefit of visiting a Flavour Vapour store is that you can try-before-you-buy to make sure you are happy with your e-liquid choice.
Back to KITS…
If you've made it this far but are already beginning to get a touch of the old TLDR, click here to see our YouTube video on the topic – but here's our top picks for anyone looking to start on the vaping journey.
Cue the music.
The VAPTIO TYRO – In at number one, our hands down favourite starter kit of the year (so far) is… the Vaptio Tyro. It is a genuine Swiss Army Knife of a kit. It pretty much caters to everyone, including seasoned vapers looking for a simple all-day device.
The 'Tyro' is simple to use, works with all types of e-liquid, has a great battery capacity and looks good too. We love it!
The INNOKIN T18 2 – The only kit in this list with an origin story! As the name suggests, this is the second iteration of Innokin's original T18 kit. The first version quite literally took the world by storm – 10's of thousands sold! – and the 'T18 2' only improves on that solid foundation.
Offering an easy to use product with a few nifty features such as adjustable output and a clever air-flow design makes the T18 2 a definite contender.
The ASPIRE POCKEX – Technically known as an AIO (all-in-one), the 'Pockex', drum roll, is an all-in-one device that houses the tank and battery in one.
But fear not, it operates in the same way with replaceable coils and is very simple to fill and use. The classic metallic finishes really top off a great product. Because it's an AIO it is slightly smaller than other "pen-style" kits – a real positive if size is important.
The INNOKIN DV POD SYSTEM – Changing gears entirely, the first POD kit in the list is a real gem! Discreet yet perfectly able, the 'DV' is the perfect option if you don't want to draw attention to the fact that you are using an e-cig. Charge it, fill it with your favourite e-liquid (it can take ANY e-liquid we've thrown at it) and away you go.
The INNOKIN COOLFIRE MINI ZENITH D22 KIT – Again, something a little different, the 'Zenith D22' Kit is a bit more "boxy" (boxie? boxey? who knows?) but benefits from a much higher battery capacity. The extra size means it will last a little longer, so if you are a heavy smoker it might be better to go with the Zenith to get you through the day on a single charge.
Truth be known, any of the above starter kits are a great place to begin, but if I had to choose only one it would be the Vaptio Tyro.
If you want to know more about our current starter kit of choice click here to see our house-trained vape guru's unboxing/tutorial video over on the YouTubes!

James - FV