Mon 22nd Apr 2019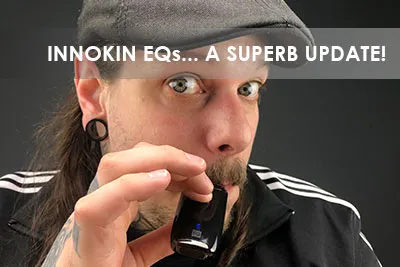 Innokin's new POD offering is the EQs, and while we haven't had to wait too long for this upgrade it is definitely worthy of consideration if you are looking to jump on board the pod-train.
If you are new to the idea of pods, let's have a quick shallow-dive into what they are and their pros and cons…
First up, a pod system does exactly what normal e-cig kits do. But pods do it in a teeny tiny package.
Pros
The small form factor of pod systems is a real benefit for many vapers…
Size - They are amazingly discreet and don't tend to draw any attention to the user.
Simple to use – in fact, most pod kits only have one button to control all the functions.
Choice – there are now myriad options available, for a run down of our favourite options check out our YouTube Video HERE.
More choice – when it comes to e-liquid you'll find that pods are the perfect option. This is because the recent batch on offer are compatible with any kind of juice you can throw at them.
Cons
The small form factor of a pod system is a real pain for many vapers…
Size – given the small size of pods they don't have the biggest battery capacities, meaning if you are a heavy user the chances are it won't last all day on a single charge. No problem if you can charge on-the-go, but definitely a pain if you can't. Pods don't offer too much in the way of "cloud chasing" either.
That's about it for the cons though.
Back to the EQs
Way back last Summer (in vaping terms that may as well be a decade ago!) Innokin released the amazing EQ pod kit that quickly became our favourite pod available. In fact, if you ventured into any of our stores you would have found at least one team member happily puffing away on one.
For 2019 Innokin have blessed us with an updated version, which I am glad to report builds on the solid foundation of the original.

It's sooo small
The first thing I noticed was the size – somehow Innokin have managed to eek out just as much power and battery life (800mAh) while making the EQs even smaller. It really is a joy to hold and use takes up virtually no space on my backpack. The ergonomics are outstanding, the power button sits exactly where I would have put it if I were on the design team; which incidentally I'm not, but I can dream!
Side charging for the win
The next change I was a little "meh" about. That was until I used it. The EQs' USB charge port is at the side of the unit rather than on the base. It is a brilliant, albeit minor, change that means it stands up while charging.
Good pod, almighty
Another big change is the new pod and coil combination. Innokin have dropped on of their new 0.4Ω Plex 3D coils into the pod. And while that is a bit of a mouthful to say (and type), the new coils are outrageously good. Wicked with organic cotton and wood pulp to offer superior vapour and flavour, the Plex 3D coil matches some of the best tanks around. The flavour reproduction is immense, plus the mesh technology allows the coil to heat up and cool down quicker – thus not wasting battery power and ensuring the coils tast fresher for longer.
If you are a big fan of the original EQ pod fear not – the old pods are compatible with the EQs and vise-versa!
What's the EQs like to live with?
So, I have had mine running all day for a little over a week now, and my initial thoughts are that I won't be swapping it for anything else in the near future – I love it. The pod itself has lasted really well and I was pleasantly surprised at just how well it copes when filling up with a completely different flavour profile. Going from a fruit blend to a rich tobacco by Tobacco Docks was pretty seamless.
Sure, the battery doesn't quite last me all day, but while it is charging (it only takes an hour or so) I use a bigger mod and tank setup.
I am a huge fan of the EQs. It is definitely an improvement on the first iteration, and strangely the function I liked the most is the side USB port – that just rounds off a perfect pod kit.
If you want to find out a bit more, my good buddy Alex (hi Alex) has already jumped on the You Tubes with a great unboxing video right HERE
Amy - FV