Mon 15th Apr 2019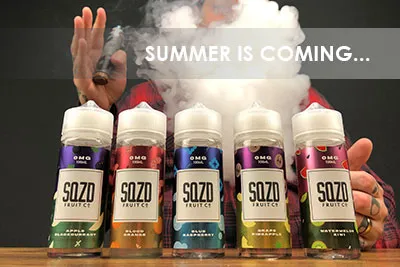 Summer loving…
Ok, so the clocks have only just gone forward an hour, officially heralding the beginning of Spring. But a new e-liquid has landed which has a definite Summer vibe – and we LOVE IT!
SQZD Fruit Co. landed here at Flavour Vapour HQ, and it made an immediate impact. But then the sun came out, and the whole range took on a new dimension! In the same way that tea somehow tastes better when served up in a china cup – SQZD manages to taste even better when the sun is shining.
Premium quality – sensible price

Before we jump into the flavour profiles, let's take a minute to congratulate SQZD Fruit Co. for developing a range of juice that balances quality and price in such a way that doesn't necessitate a trip to a financial advisor. It is great to report that they are sensibly priced without tasting like cheap e-liquid, a rare quality indeed!
Our super enthusiastic YouTuber Alex has beaten me to it and already uploaded a comprehensive review of the SQZD e-liquids (which you can catch here), but if you can't beat them and all that…
The Vapeful 8

So let's get into it with a run-down of what you can expect when you vape this 100ml range of wonderful e-liquid. To keep it fair, each one was tested in a sub-tank and a dripper and were mixed to 3mg nicotine strength using ProNic's Black salt nic shots.
Watermelon Kiwi -

The first thing I noticed about the whole range is the eye-catching branding. Not only do UK e-liquid brands make the best juice in the world, but it's also nice to see that EVERY aspect of the product has been carefully thought through. Watermelon Kiwi let's you know exactly what it is about long before you even take the cap off for the first time!
But let's be honest, whilst it looks great the fun starts when you do take the cap off. Initial thoughts… it smells amazing. With a fresh coil in my Innokin Plex tank set at around 65W the first thing that comes through is a fresh watermelon blast – it doesn't taste synthetic at all which is the bane of so many watermelon flavoured e-liquids unfortunately. The kiwi balances out the sweetness really well, these two fruits were made for each other, SQZD are off to a flying start!
Tropical Punch –

I moved straight over to an RDA (a DotMod dotRDA to be precise) with some Cotton Gods nestled inside a dual 0.2Ω build and decided to do a completely blind test – no peeking at the label to see what it's supposed to taste like.
Obviously taste is very subjective, but the pineapple came through immediately followed by a satisfying sweet citrus. Very nice!
Strawberry Raspberry –

No need for a blind taste here, but back to a tank this fluid is a berry sensation from the first hit.
There are loads of strawberry flavoured e-liquids currently available, and to be perfectly honest it has been a long time since I have sampled a genuinely bad one (I won't name it – this isn't that type of review), but I was pleasantly surprised to be greeted with a sweet and fresh berry mix.
Mango & Lime –

This one will definitely split opinions, mostly because lime flavoured e-liquids are a bit like Marmite. The mango is sweet and delicate and then the lime brings a sharp aftertaste that, while isn't in the least bit unpleasant, is definitely the predominant flavour. My take, for what it's worth… if you don't like lime give this one a miss. If you do, you'll love it.
Grape Pineapple –

This one is sooo good that it is safe to say it's my pick of a great bunch. There are quite a few grape e-liquids that I vape regularly, Purp is usually my all day vape of choice – but there is something very special about SQZD's decision to mix in a pineapple twist to liven things up a bit.
It's worth pulling out your fancy dripper for this one!
Blue Raspberry –

Honesty is the best policy when it comes to reviewing e-liquids, so I will preface Blue Raspberry by SQZD by stating I am yet to try a blueraz that I am mad about. Sorry. That being said, this one ISN'T too sickly, which is what I usually find with them. That is a huge bonus, for me anyway.
Blood Orange –

Now for something really quite unique, which is very difficult to do these days with e-liquid. Take a bow SQZD.
Way back in the 90's (yep, I am THAT old) I remember buying little hardboiled blood orange sweets and this juice brought those memories flooding back. This is an absolute gem whether in a tank or on a dripper. Sweet, fresh and with all the joys a lazy Summer's day.
Apple Blackcurrant –

Last up is SQZD's Apple Blackcurrant – two fruits that have been happily coexisting since forever. And for good reason.
Apple juices have a tendency to be a little synthetic, but this is a genuine rendition that rounds off a great range with aplomb.
Top 3 for me?

If you are looking for some swanky new e-liquids to brighten your day then give Grape Pineapple, Blood Orange and Watermelon Kiwi a blast in your sub tank, you wont regret it.
Vital statistics…

UK made
100ml bottles
0% nicotine (you'll want to add nic shots to your chosen strength)
VG/PG = 70/30
Best for sub-tanks and drippers
Price - £17.99 including a nic shot.
This is a strong set at a really competitive price; I can happily recommend the whole range, ok, I don't particularly like any blueraz juices, but other than that the whole SQZD range is great.
Amy - FV