Mon 1st Apr 2019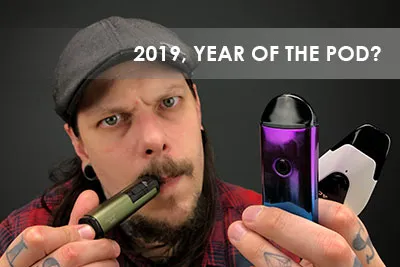 Are PODS the future of vaping?
Here at Flavour Vapour we have been selling e-cigarettes and e-liquid since way back in 2012, which is an eternity in vaping! Since then we have seen many changes to the industry, some which have stood the test of time (short fill e-liquids) and some that haven't (e-cig iPhone cases – don't ask). However, the recent surge in the popularity of POD systems looks like they are here to stay.
Size MATTERS…
There are loads of reasons why PODS are so desirable, not least of which is the popularity of brands like Juul over in the States, but the fact is SIZE MATTERS.
Not everyone wants to lug around a great big mod such as the awesome VooPoo 'Drag 2' (and it IS awesome), and to be fair we can understand why. Box mods tend to weigh a ton, require multiple batteries (plus a few spares just in case) and by the time you've added a tank the size has only increased. The beautiful thing with a POD kit is that they are tiny in comparison. If you are looking for a genuinely stealthy vape then the POD is ideal.
The discreet size is further complimented by the fact that PODS don't bellow out huge amounts of vapour – if you don't want to draw attention to yourself this is invaluable.
The good news doesn't stop with the size…
PODS are ridiculously simple to use, as they don't tend to be plastered with complicated buttons or settings – it's fairly usual to find only one button to operate all of the features. For example, the Innokin EQ's single button sorts out the on/off, power output and the actual vaping functions; it doesn't get any easier than that!
What will surprise most enthusiastic vapers is the sheer quality currently available from the recent crop of POD systems. Not only are they amply powered, but thanks to some amazing coil technology they are also fully compatible with virtually all types of e-liquid. Whether you use high VG (much thicker) flavoured e-liquid or (thinner)PG e-liquid the likelihood is that the most recent PODS on offer can be used with either.
Add to that the fact that they all fit in the palm of your hand and you are on to a winner!
With a pinch of SALT…
The other factor, which goes some way to explaining the recent rise of the diminutive POD system, is the boom in availability of salt nic e-liquids. In a nutshell, salt nic fluids have a more potent nicotine hit than you can expect from a normal (sometimes referred to as freebase) bottle of e-liquid. This is because the salt nic absorbs at a quicker rate, resulting in a more effective nicotine hit.
Salt nics have become wildly popular in recent months, as the quality has gone from strength to strength. The equation for many users is simple – salt nic = more effective nicotine hit = using your e-cig less = spending less money on e-liquid. It's not exactly E=MC2, but it seems to work pretty well for most.
Top 3…
There are now a plethora of options available that are perfect as a first-time starter kit or as a secondary device for a seasoned vaper. And while we have absolutely nothing against the Juul per se, the reason it doesn't appear on our list is the fact that we prefer the POD systems which allow the end user to select the e-liquid.
So, we sent a bunch of POD kits over to our peerless YouTube superstar Alex for him to give us the lowdown on what's hot (which you can see here) and we have put together a list of our three favourites to give you a taste of what's available right now…
THE INNOKIN EQ – Innokin were among the first out of the traps with the EQ kit, and it is fair to say that the created an instant classic.
As already mentioned, the EQ is so simple to use even I managed it. Pop the pod off, fill it up, pop it back on again and away you go. Its tiny size makes it really practical as an all-day device and the new colours available only increased the popularity.
The pod is a self-contained unit, meaning that the pod comes with a coil pre-installed. Thankfully the coil is one of Innokin's new Plex coils, which means it lasts for ages (I can happily report that I get about 2 week's use out of mine). The real surprise aspect of the EQ is the amount of flavour it produces when using your chosen e-liquid. Every e-liquid we've tried in an EQ tastes exactly as it should – it really does rival some of the bigger sub-tanks out there for flavour!
Add into the mix the fact that the EQ also has a user-adjustable output and it quickly becomes obvious why it is the go-to POD for so many people.
THE ASPIRE SPRYTE – Much like the EQ, Aspire's Spryte kit is a joy to behold and use. But it has the added advantage of having a changeable coil. The Spryte uses Aspire's tried and tested BVC coils, which means you can select from 3 different types to suit your vaping style.
Like all POD systems, the Spryte is simple to fill and use, plus additional features like its protective cap and slim profile means that the Spryte deserves a place in the top 3.
THE INNOKIN DV – Full disclosure, the DV is my POD system of choice right now. It is ultra lightweight, compact and designed to fit perfectly in the palm of your hand. The adjustable output is a fantastic feature, but the pre-installed coil is what separates the DV from the crowd – put simply it is amazing. Innokin have developed a POD system that utilizes brand new mesh technology to guarantee that premium e-liquid tastes premium from the first drop to the last.
The styling is genuinely unique too, so if I had to choose only one POD to live with on a daily basis it would probably be the DV.
But don't take my word for it, check out Alex's unboxing review and tutorial right here...

Whichever one takes your fancy there's no doubt that 2019 is the year of the POD.
James – FV